Hot musician turned sexy whiskey maker!
The Interview
My last meeting before quarantine was with talented musician and founder of Farm Distillery in upstate New York, Tommy Brunett. We met on Las Olas Boulevard to talk whiskey, music and his passion for both. Hailing from Rochester, he came up with idea for Iron Smoke Bourbon Whiskey while smoking ribs in his backyard. I look forward to more cocktails and conversation, socially distanced of course. In whiskey we trust.
What are some of the highlights of your ten years of working in the bar industry?
95.5 rating in Jim Murray's Whiskey Bible
Named "Top Ten Bourbon's Beyond Kentucky"
Going from backyard concept to now distributing in 7 states… and beyond!.
What's the best cocktail you've tasted this year? and why.
Peacemaker Delicious. It uses both of our products and is my go-to cocktail. 2-parts Iron Smoke Bourbon/1-part Rattlesnake Rosie's Apple Pie Whiskey/Dash of bitters/Orange slice garnish. PS: I also really love the Old Fashioned at Death or Glory in your neck of the woods!
What's the biggest risk you've ever taken?
Jumping on off the garage while on my bike when I was 10 years old! Something like that'll free ya! I've taken a similar approach to my businesses.
Who are/were your role models or mentors?
Johnny Cash, Evil Knievel and Elon Musk.
What's the best book you've read this year?
Railroad of Souls, my wife, Jen Brunett's second book!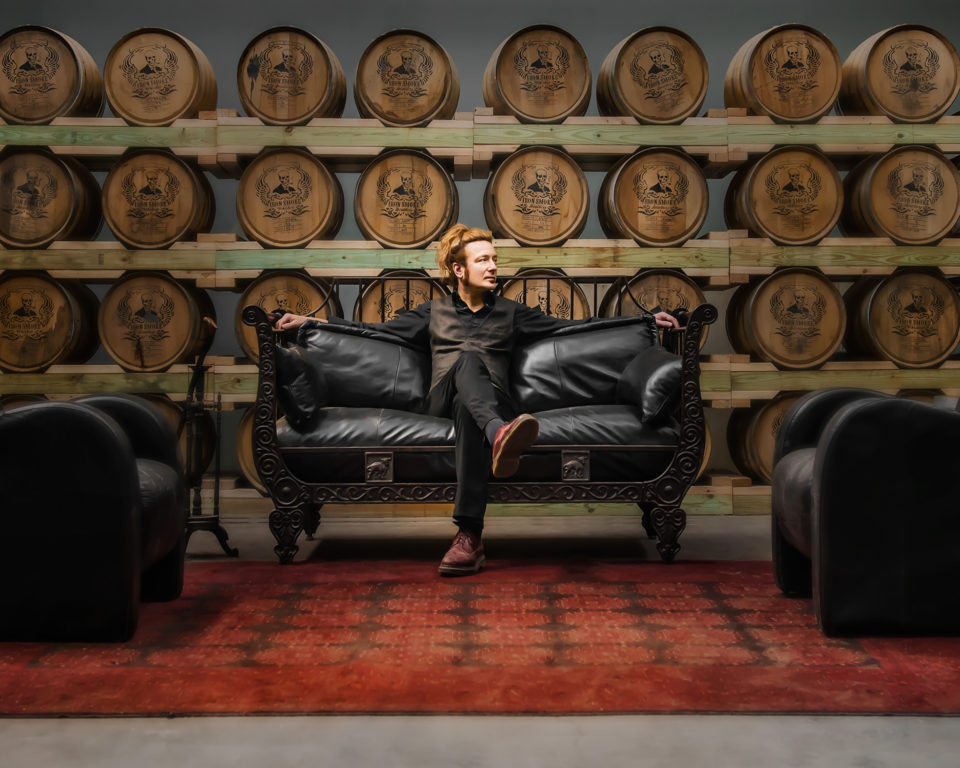 What does success look like for you?
Continuing to grow our brands as the industry leader in new markets while keeping with our ethos of authenticity and honesty!
What is your essential bar accessory?
Goggles, gloves, shaker and spoon. (no particular order)
What's in your home bar?
You name it – I got it! I make sure to have a high-end tequila for special occasions.
What music complements your drinking style?
Tom Waits, Hank 3 with a garnish of Rolling Stones.
What's the cocktail trend that's going to move us forward in 2020?
Simplified cocktails. Unfortunately, this trend of "no or alcohol-light cocktails" is not going to propel us back to the basics!
What would readers be surprised to know about you?
I was the touring guitar player in Modern English in the 80's.
I was once in a band that held the Guinness Book Of World Records' "Loudest Band In The World" title.
I started the company in the backyard while getting my swerve on drinking whiskey and smoking ribs.
This time next year you'll be drinking …
Hopefully less… this Covid thing has got me doubling my intake.
Follow Up
BUSINESSMAN TURNS HIS WHISKEY DISTILLERY AND MUSICAL TALENT TO BE OF SERVICE TO FIRST RESPONDERS AND HEALTHCARE WORKERS
As a business owner and musician, Brunett is doing what he can to bring comfort and keep people safe.
"I have always tried to give back to the community and honor those who serve. As crazy as this COVID situation is, it kind of makes sense," said the father of two.
Like many distilleries around the country, Iron Smoke Distillery began making hand sanitizer in late March. A team of ten employees working on rotation had produced 84,489 gallons to date. Every week, Brunett makes sure people working on the frontlines—police officers, volunteer firefighters, food bank workers– have access to the hand sanitizer. More than 4,000 bottles (32oz) have been donated to organizations in Brunett's hometown of Rochester in upstate New York as well as downstate where the virus in concentrated and supply is critically low.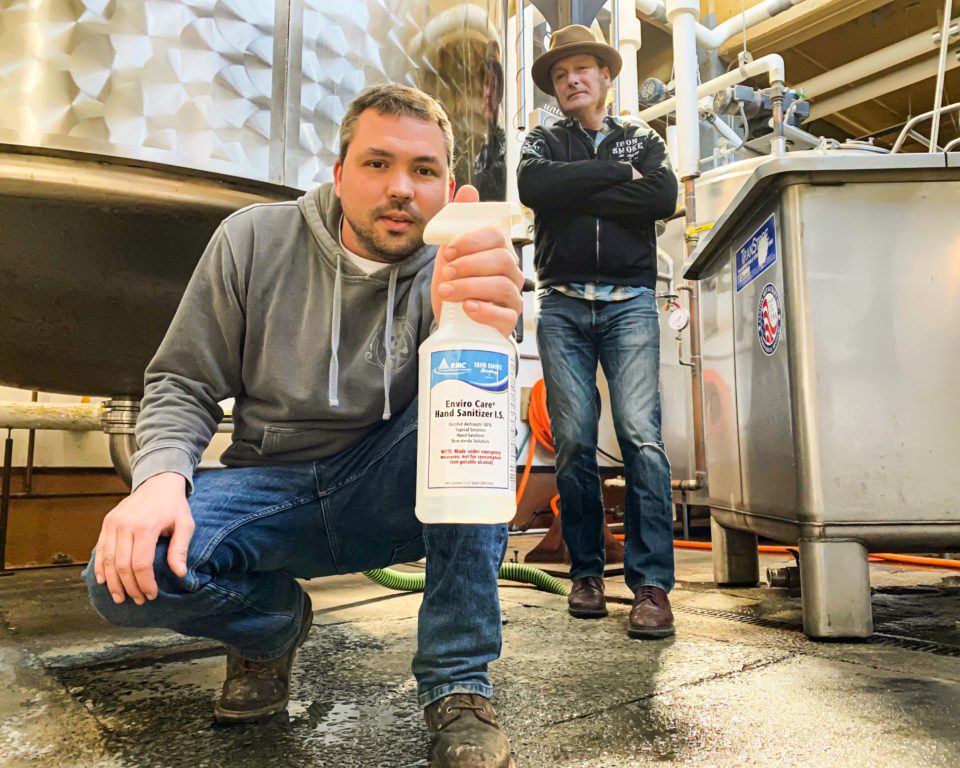 "We just got a request from Visiting Nurses in midtown Manhattan. My wife is shipping a pallet with 44 cases today," said Brunett. UPDATE: Iron Smoke is just about to make a donation of 20 cases (240 qt bottles) to the City of Rochester and the RTS Transit Center so that people using bus transportation have access to hand sanitizer from two designated "Sanitation Stations". At the press conference on August 5th, Tommy will also donate the remaining 300 16-ounce bottles (individual sized bottles).
As confinement dragged on, Brunett kept his marketing director employed while creating a website called smokeoutcovid19.com . He had shut down his tasting room and musical stage at the distillery so he knew there were a lot of unemployed bartenders and musicians. By posting videos of themselves creating drinks or singing songs, the service workers could earn "virtual tips" through Paypal and Venmo.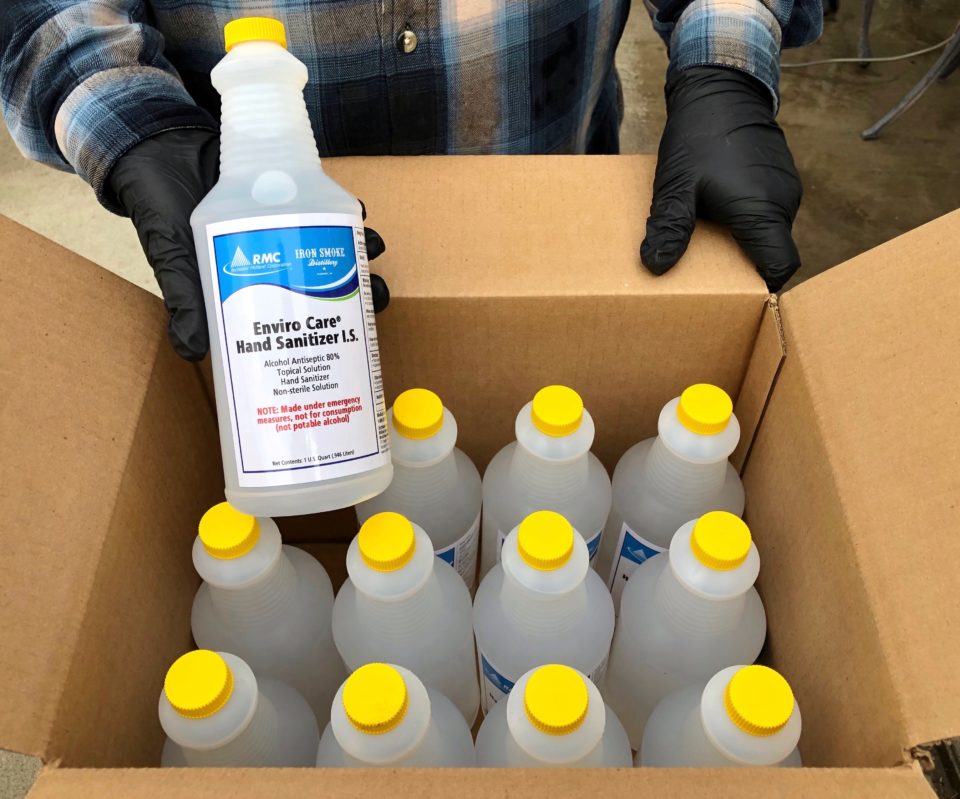 On April 20, 2020, Brunett released a music video on YouTube. Again, he was not planning to do that but somehow the corona virus was the impetus. The title is "Angels in the Rafters" and the video he created is a slideshow of people on the frontlines battling COVID19.
"I was on the computer and saw all these pictures that just spoke to me," said Brunett. "The photos seemed to mesh with the lyrics really well and it just came together."
Brunett published his music video on YouTube late at night. His wife shared it on Facebook and by morning, views were multiplying. Friends texted their approval and one of the co-producers commented, "Completely honored to help create this song with you. Well done my friend."
That co-producer is Elvio Fernandes, a keyboardist and vocalist with multi-platinum-selling artist Daughtry. Fernandes created all the instrumental tracks after Brunett sent him the chords via a voice memo on February 1, 2020. Brunett also had his music producer in Nashville, Felix McTeigue, encouraging him to finish "Angels in the Rafters."
"Felix knew that song was just sitting on the shelf," said Brunett. "Elvio, Felix, me–we were all in our separate homes because of COVID confinement, but we could still get back to work on it."
Many of the comments on social media praise Brunett for creating an anthem to honor the frontline workers putting themselves a risk. In the song, Brunett's raspy voice talks about having a pain beneath his chest and needing angels watching over him.
"I think we all need the reassurance we have angels in the rafters these days," said Brunett.
Brunett's team at Iron Smoke Distillery continues to produce hand sanitizer and is committed to donating at least 1,000 bottles to frontline workers and volunteers every week until the pandemic is over or they go back to making whiskey. There is a limited amount of hand sanitizer being sold to the public and the price includes a $4 donation to the bartenders and musicians signed up on the website, SmokeOutCovid19.com.
Interviewer: Renée Korbel Quinn, Spirited South Florida
Strategist | Writer | Supporter @cocktailr @SpiritedSFL #getspiritedsouthflorida #cocktailrs #downtownftlgirl