A Winterfest Virtual Happy Hour
Spirited South Florida & BootlegGreg Genias are excited to team up for Winterfest's Lounge and Learn – A Virtual Cocktail Series.
Join us at our virtual Happy Hour where bar consultant Bootleg Greg will craft a professionally perfect cocktail and home bartender Renée will create her "MacGyvered" version with whatever she has in her kitchen. You'll get handy tips and creative twists! We will have special guests join in, and fun give-a-ways! Set your calendar, you won't want to miss the spirited fun!
Final Series 5 • Halfway to Christmas
Lounge and Learn episode 4 goes live Thursday, July 23rd at 5:30 pm, as we explore holiday cocktails partnered with Winterfest sponsor Brugal Rum.
Join • Shake • Snap • Share
Everyone will be able to view this Virtual Cocktail Series on Winterfest Parade's Facebook live stream. Want to be part of the fun? We invite you to join a limited interactive group via Zoom, REGISTER HERE. After registering, you will receive a confirmation email containing information about joining the meeting.
Series 5 Recipe Card
All you will need to join in the fun are spirited ingredients and a few handy tools. Winterfest sponsor Crown Wine & Spirits is offering a promotional code WFLL10 to purchase featured spirits and cocktail kits. Get ready! Spirited South Florida will show you how to create fun summer cocktails. Crush that ice, garnish with umbrellas.. it's Tiki Time. So follow along and create your own cocktail, here is a list of what you will need:
The Lounge and Learn Series
May 28 Launch • Rum 4 Ways with Brugal
Good Vibrations abounded as Spirited South Florida and Bootleg Greg showed guests how to make the classic Daiquiri with a few home bar twists, shaking up a good time. Watch the video here. Recipe Card below: Classic, Berry, Doblar and Hemingway Daiquiris. Ingredients: Rum, Limes (or mixer), Grapefruits, Strawberries, Sugar or Simple Syrup. Pro Tip: Peychaud's Bitters. Theme: Tropical Cocktails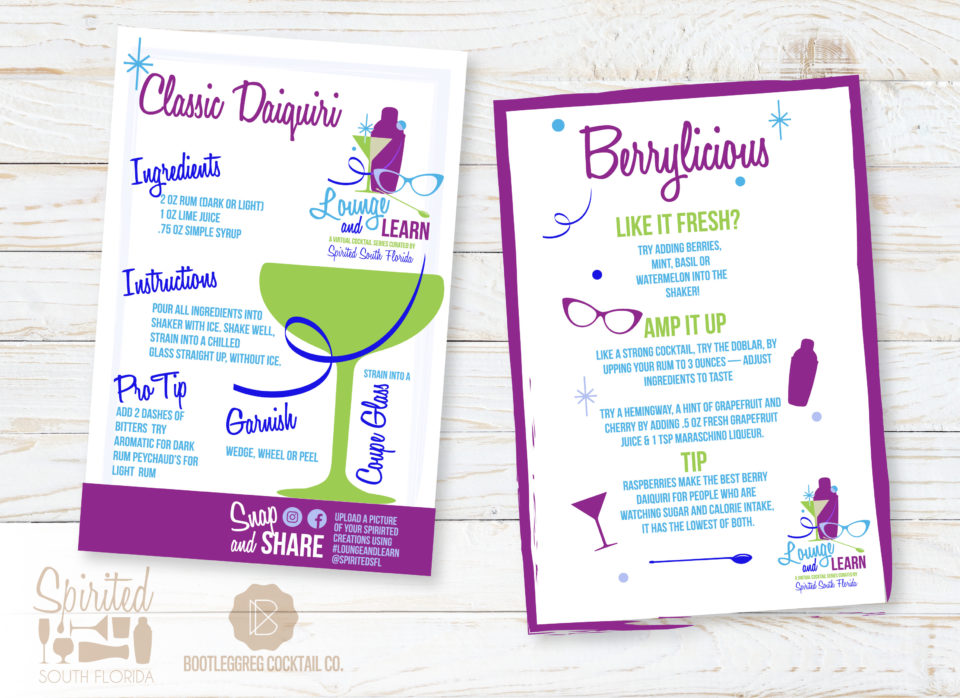 June 11 • The Masked Margarita with Maestro Dobel
ChaChaCha. Spirited South Florida will show you how to make the classic margarita and fun twists that will spice up your cocktail experience. Salt or No Salt, let the debate begin. Recipes for: Classic, Jalapeño Mango and Paloma. Ingredients: Tequila, Limes (or mixer), Grapefruits, Jalapeño, Agave or Simple Syrup, Salt. Theme: Masquerade
June 25 • Bourbon Basics with Buffalo Trace
Fly Me to the moon. Spirited South Florida will show you how to craft the perfect Whiskey Sour at home. Special Guest Brian Freed from Stache Drinking Den. Tips include eggless sours, wine infused cocktails and garnishes. Recipes for: Sours and Old Fashioned. Ingredients: Bourbon, Lemons, Oranges, Sugar or Simple Syrup and Bitters. Theme: Cocktail Party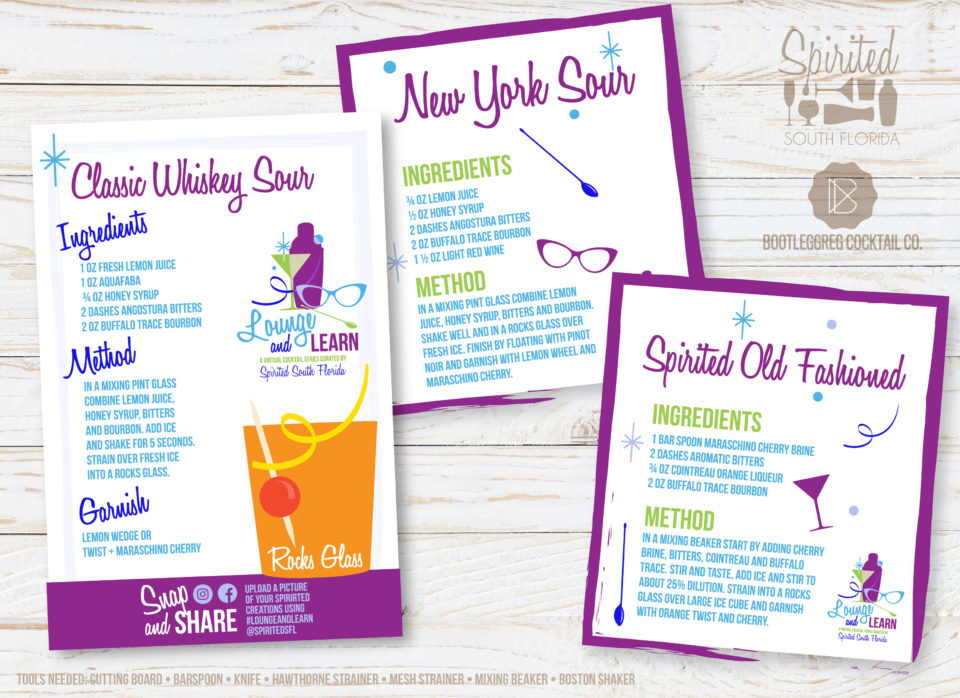 July 9 • Summer Swizzle
Get ready! Spirited South Florida will show you how to create fun summer cocktails with rum and tequila. Crush that ice, garnish with umbrellas.. it's Tiki Time. Recipes for: Champagne Tiki, Pina Colada and Mai Tai Punch Ingredients: Rum, Limes, Coconut, Pineapple, Tropical juices Theme: Tiki Cocktails
Meet Bootleg Greg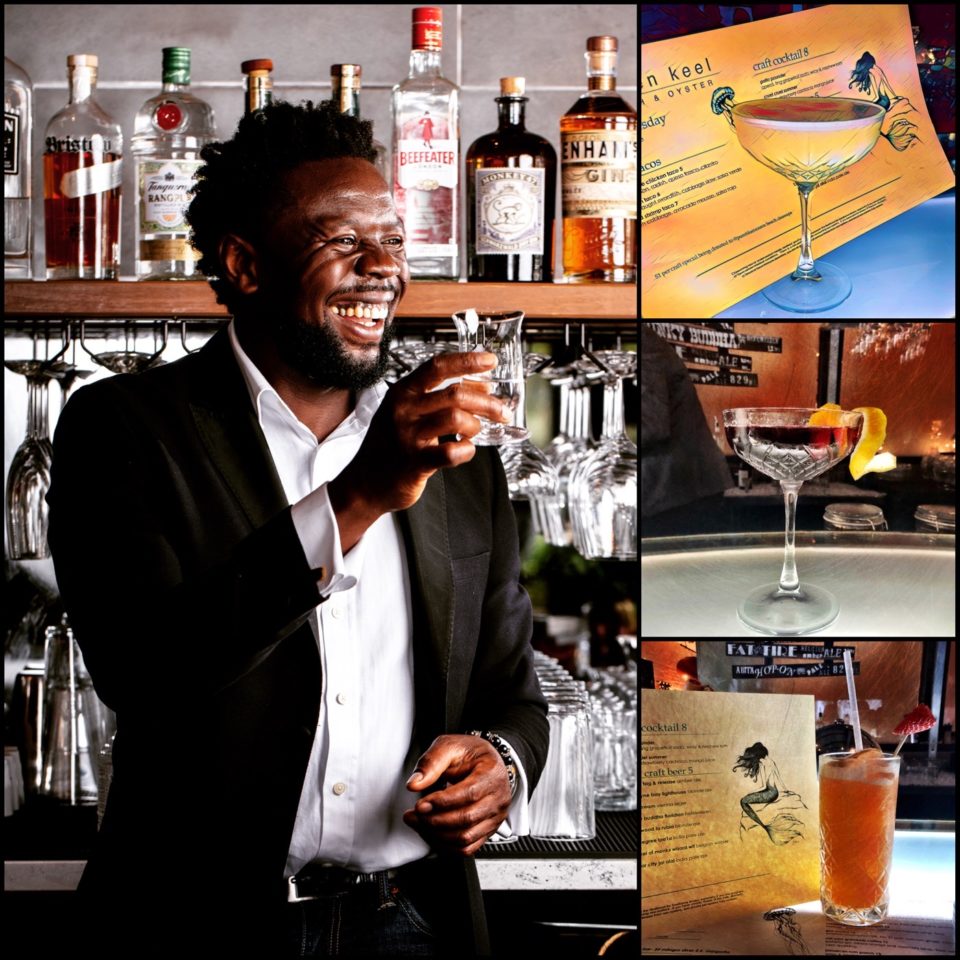 Gregory Genias, better known as Bootleg Greg, was born in the hills off Cockpit Country Trelawny, Jamaica. His transformation into Bootleg Greg began at an early age with the help of his father, a self-proclaim bushman and moonshiner, who exposed a young Gregory to the inner workings of plants and herbs and their benefits to the human body. Read more here.
Curated for Winterfest
Winterfest, best known for its one-of-a-kind Boat Parade, brings together our community and visitors from around the world. In 1988, community leaders decided to build upon the popularity of the Boat Parade and create a Not For Profit organization that would make the Parade and all of its surrounding events into a world-class community extravaganza. Broward County also benefits, thanks to Winterfest's economic impact on the community of more than $50 million per year.
Winterfest encourages and promotes diversity among all Fort Lauderdale cultures, races, and religions. Winterfest has a huge base of 300+ volunteers, supporters, and sponsors led by its Board of Directors. Since most Winterfest events are free to the public, sponsorships from local and national corporations and organizations provide the "fuel" to help run all Winterfest festivities. Our sponsors ensure the continued success and future growth of the Winterfest Celebration.