"It's Game of Thrones, just without dragons and White Walkers. Or, well, a throne."
Get Ready! The one, the only, Bob Higginbotham and the team at Death or Glory Bar in Delray Beach have resurrected the popular summer 'Bar Brawl' series, kicking off a fast-paced, cut-throat, no holds barred elimination competition. Join the Facebook group for all the scoop. Special thanks to Bar Brawls photographer Studio B2, Inc / Emiliano Brooks for allowing us to feature his photography.
The Brawl
The battle for the coveted cocktail crown kicks off on Wednesday, June 12 at 9:30pm and continues for 12 weeks, pitting 24 of the most badass cocktail professionals from South Florida against each other in a single elimination competition that runs through the finals on August 28.
Crafty competitors will demonstrate their skills using their knowledge of classic cocktails, spirits and bar techniques, then be judged by a panel of cocktail 'experts'. The winning bartender will receive a cash prize of $750.
The Brawlers
Jessica Bell, El Camino – Delray Beach
Robert Bell, El Camino – Fort Lauderdale
Jeffrey Creegan, El Camino – Delray Beach
Robert Dolder, Banyan – Delray Beach
Dustin Ezell, The Rebel House – Boca Raton
John Fitzpatrick, The Wine Room Bar – Delray Beach
Olivia Graham, Driftwood – Boynton Beach
Tiffini Grant, Cafe Martier at Post Office Arcade – Stuart
Jessi Harris, Voltaire – West Palm Beach
Michael Heeney, Sweetwater – Boynton Beach
Justin Himmelbaum, Mucho Gusto – Delray Beach
Kira Helman, Elisabetta's Ristorante Bar Pizzeria – Delray Beach
Joshua Leith, Eau Palm Beach – Palm Beach
Dave Lovett, 1000 North – Jupiter
Ervin Machado, Big Time Restaurant Group – West Palm Beach/Fort Lauderdale
Joe Messina – Port St. Lucie
Huy Nguyen, Driftwood – Boynton Beach
Nick Nistico, Kilgore Group – Miami
Anthony Rettino, Jaguar Sun – Miami
Amanda Rosetti, Voltaire – West Palm Beach
Matthew Swig, Sundy House – Delray Beach
Dakota Thompson, Tiki-Ono – Lake Worth Beach
Eric Vincent, Apothecary 330 – Fort Lauderdale
Elizabeth Williams, The Regional – West Palm Beach
The Host
As founder of Atlantic Avenue Beverage, headquartered in Delray Beach, Bob Higginbotham's passion for the development of creative beverage programs and successful restaurants is driven by more than 20 years experience in the hospitality industry. Throughout his career, he has served in every level of restaurant management and operations. From beverage director, to general manager, to owner/operator, his vast experience allows him a unique perspective and intimate knowledge of all aspects involved in creating and executing a successful enterprise.
The Line Up
Week 1
Amanda Rosetti • Matthew Swig • Jessi Harris
Week 2
Michael Heeney • Robert Bell • Nick Nistico
Week 3
Tiffini Grant • Dustin Ezell • Jeffrey Creegan
Week 4
Olivia Graham • Eric Vincent • John Fitzpatrick
Week 5
Robert Dolder • Huy Nguyen • Kira Helman
Week 6
Justin Himmelbaum • Joe Messina • Dakota Thompson
Week 7
Ervin Machado • Anthony Rettino • Elizabeth Williams
Week 8
Jessica Bell • Dave Lovett • Joshua Leith
Join Us
'Bar Brawls' will start each Wednesday at 9:30pm at Death or Glory Bar, 116 NE 6th Avenue, Delray Beach. Tickets to attend each weekly brawl start at $10 for general admission, or ringside seats can be purchased for $25 (worth the extra cash). A portion of all proceeds will benefit Wounded Warrior Project. Full dinner service will be available during 'Bar Brawls' both inside and at the outdoor dining area until 11PM, then a late-night menu will be available until closing.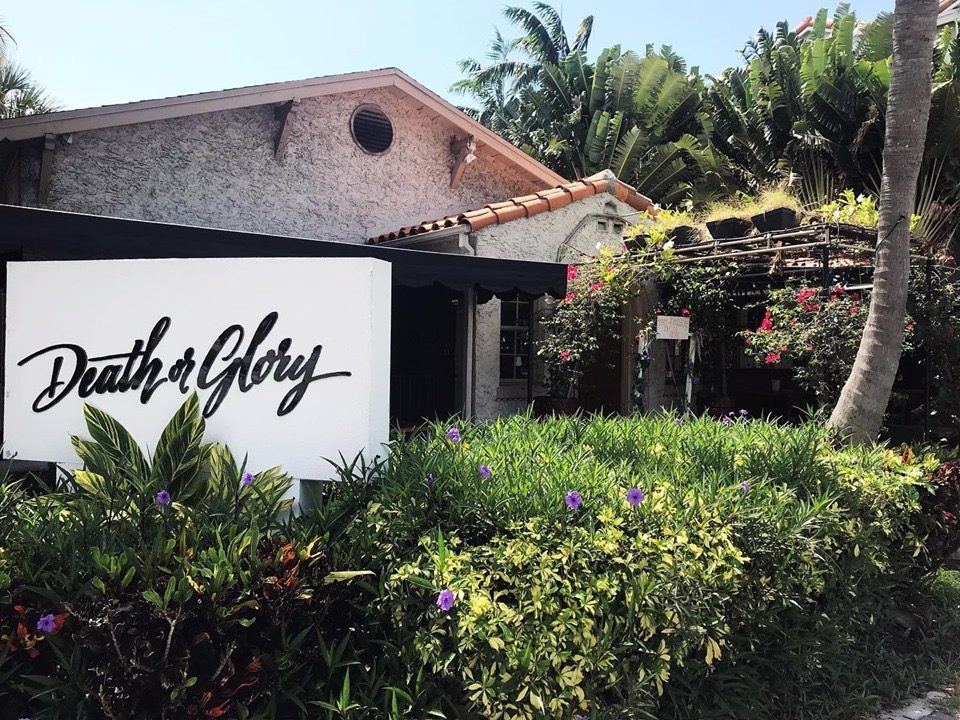 The Venue
Death or Glory is passionate about cocktails, food, home, and community. Sip their innovative, seasonal cocktails prepared with precision and care. Taste their globally influenced new American fare that makes you feel at home. Read more here.
Behind The Scenes
David Bouchard, a finalist from the inaugural Bar Brawls, the GM/Beverage Director at Death or Glory is the behind the scenes engine that fuels the Brawls. His insight, experience and knowledge were invaluable in the planning of this year's event and are vital to its upcoming success.
Writer: Renée Korbel Quinn, Spirited South Florida
Strategist | Writer | Supporter @cocktailr @SpiritedSFL #getspiritedsouthflorida #cocktailrs #downtownftlgirl
Photography by: Studio B2, Inc / Emiliano Brooks